Jenny Jamison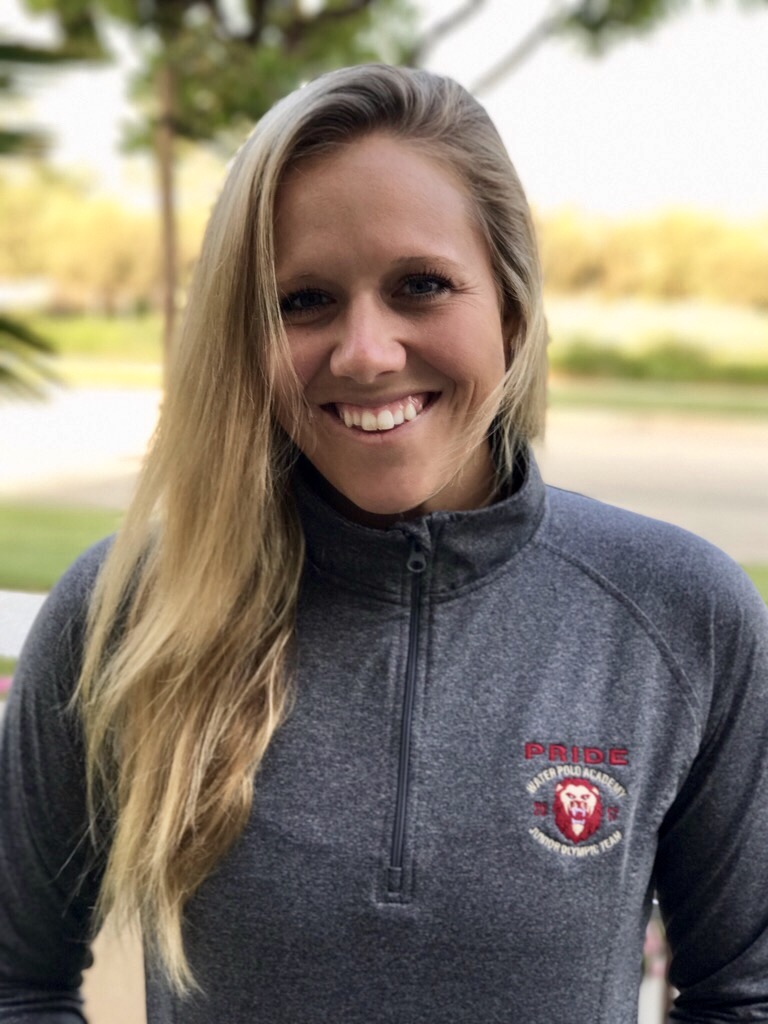 Jenny Jamison grew up in Camarillo, California. She grew up as a competitive swimmer, a softball player, and competed every summer for Port Hueneme junior lifeguards. When she was 10 years old, she picked up player water polo and never stopped playing. She started her water polo career with Titans Water Polo club in Oxnard. In high school, she was a four-year varsity letter at Rio Mesa. There she set the record for single season goals scored and career goals. In addition to that, her Junior and Senior year she was named team MVP, first team all-league, first team all CIF, and Athlete of the Year. 
Jenny went on to play Division 1 Water polo in college at Cal State Northridge. At CSUN, she received Honorable Mention All-American, first team all-Big West conference, and MVP accolades. In 2012, Jenny was the second leading scorer in the Big West conference and is placed on the school record board at #7 for most goals scored in a season. As a co-captain, she helped lead the matadors to a national ranking of 7th in 2014, the highest ranking the school has ever achieved. Jenny graduated in 2014 with her bachelor's in psychology.
After Jenny finished her career as a Division 1 athlete, she went on to coach at the High School level. Jenny started coaching at Newbury Park and soon moved over to Oaks Christian to be the assistant coach for the girls. At Oaks Christian she helped coach Kocur build the girls program into one of the strongest teams in the county. While at Oaks Christian, Jenny was also coaching for Pride Water Polo Academy. At Pride she coached the 16u Boys A team. In 2017, she was the first female coach to win the Coastal Zone JO Qualifiers, and placed 9th in Platinum division in JO's. In 2018, her 16u boys team returned and finished 3rd at the Coastal Zone Qualifies and finished 4th in the Platinum division at JO's.
In 2018, Jenny moved on to become a college coach at joined the staff as an assistant for the men's and women's teams at Pomona-Pitzer alongside Alexander Rodriquez. At Pomona-Pizer, she contributed to the men's SCIAC championship and NCAA appearance in 2018 and the Women's SCIAC Championship appearance in 2019. During her time as an assistant at Pomona-Pitzer, she served her role by coaching, scouting, and many hours of video analysis. In addition to being the assistant for the men's and women's team, she was also the head coach of the 18u boys' team for Foothill Club Water Polo.
After her year at Pomona-Pitzer, she was hired as the assistant coach at Brown University for the men's and women's team. During her time at Brown, she helped contribute to the men's semi-final appearance in the North-East Conference Championships. Unfortunately, due to COVID-19, the 2020 women's season was cut short, and they were not able to finish the second half of the season. Once COVID-19 hit, Jenny made the decision to take a step back from college water polo due to the uncertainties of what the future holds for college sports. She is now back in Ventura County and is working in the school at Oaks Christian while receiving her teaching credential to add on to her MA in Education.
Jenny is now pleased to be returning to Pride as the head coach of the 14u & 12u girls' programs. After many years of dedicated coaching and gaining experience at all levels, Jenny is excited to come back from her short break from water polo and spend some time developing our youth program.