Don't let some commercial system rob you, when you buy your Evista. We've got the lowest prices on the market and we offer Evista only for 1.42 USD!
Pride Water Polo Academy Clinics
Pride is proud to offer premier level clinics to athletes from any club that focus on fundamentals, technical skills, and game tactics.
The Pride Water Polo Technical Director and USA Men's National Team Assistant Coach, Jack Kocur, develops the curriculum for the every Pride Water Polo Academy clinic. The clinics are staffed with coaches that have successful playing and coaching experience at every level of competition including Olympic, professional, international, NCAA division 1, and USAWP Age Group.
The next Pride Water Polo Academy Clinic is scheduled for August 27, 2016. Please see below for details.
USA Water Polo Men's Senior National team assistant coach Jack Kocur will be leading a FREE water polo clinic on Saturday, August 27th from 11am to 2pm at Oaks Christian High School – just days after returning from the Olympics in Rio.  The FREE clinic will be targeted for boys and girls aged 6 to 14.  This is an opportunity to learn high-level techniques from one of the top coaches in the world.  To reserve your child's spot in this FREE clinic, click here and complete the required information.
Space is very limited so reserve your spot today.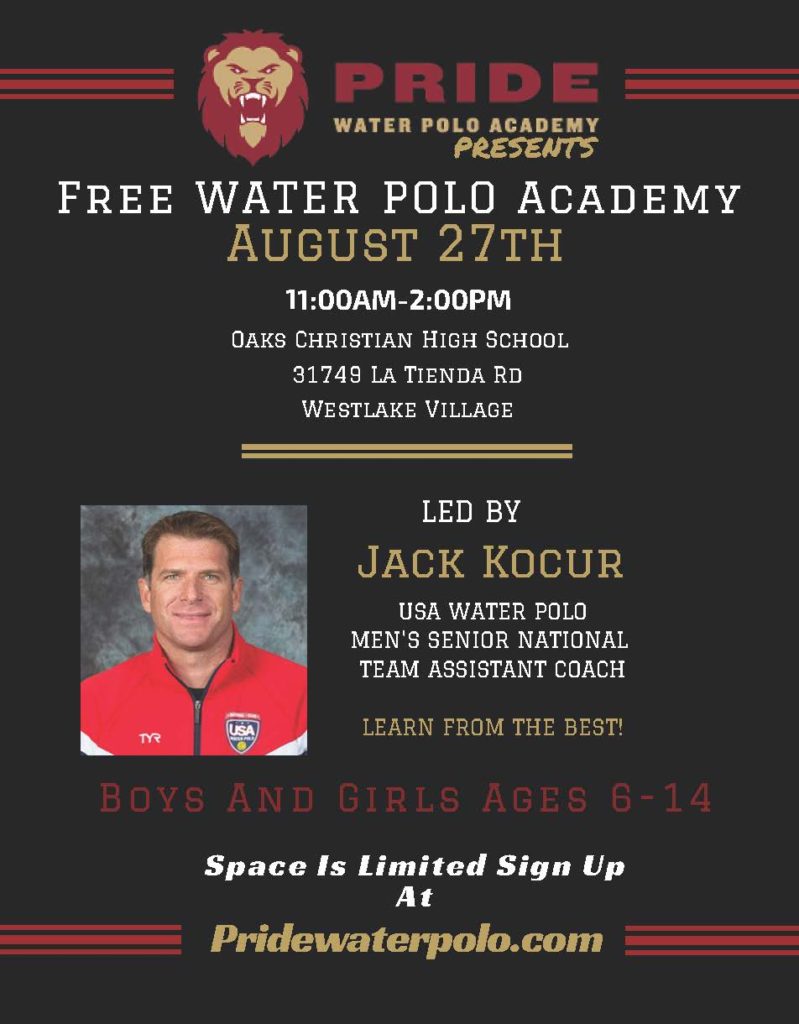 ---
Oaks Christian School
31749 La Tienda Rd. Westlake Village, CA 91362
A previous Pride Academy in 2015 featured both the USA Men's National Team Head Coach, Dejan Udovicic, and the Assistant Coach & Pride Technical Director, Jack Kocur. 3x Olympian and Silver Medalist, Jesse Smith, and Pride Goalie Coach, NCAA All-Amiercan, Alex Malkis, joined the Academy staff. Below are some photos of the Academy.